Mobile Command Vehicle (MCV)
This multi-purpose vehicle, made by Metal Fab Fire Trucks sits atop a 2014 Freightliner Business Class M2 chassis, but configured to carry gear with built in cubbies to hold up to 48 sets of protective bunker gear. Designed as an integral part of the Community Disaster Plan, the vehicle serves daily as the firefighter equipment, personnel staging, and rehab vehicle, as well as the command post for fire ground or disaster operations and carries both gas and hazmat detectors. It has an assortment of tools, and gear to keep firefighters safe. It has four Self Contained Breathing Apparatus (SCBA), two of which are designated for use by the Rapid Intervention Team (RIT); who have the sole purpose of rescuing a downed firefighter. A portable generator connected to the built-in electrical system provides power and lighting. Housing VHF multichannel radios, UHF multichannel radio, and a seating desk area, this vehicle is configured to provide a command-and-control post in the event of a complex emergency scene.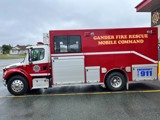 Pumper 1
Primary attack Pumper 1 is manufactured by Carl Thibault on a 2022 Spartan, 6 passenger custom cab-over chassis built for the Town of Gander. It has two 1.75" cross lays, a 2.5" cross lay and a 1.25" booster line for quick attacks supplemented with a FoamPro system with Class A foam, 1000-gallon tank, Hale 1250 IGPM gal pump, and carries five Self Contained Breathing Apparatus (SCBA).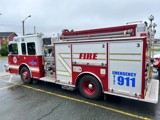 Pumper 2
This triple combination Pumper was certified in December of 2005 and is built on a 2006 Freightliner Business Class M2 chassis, powered by a Caterpillar C7 turbocharged diesel engine. A midship-mounted 1050 GPM single-stage pump, class A foam system, and an enclosed air-conditioned or heated transverse-mounted pump operator's position. Fire lines included are 1.5-inch, 1.75-inch and 2.5-inch attack lines, plus a 100-foot 1.25-inch hose reel for those small incidents such as dumpsters and grass/brush fires. Supply lines are 4-inch hi-volume. Also, on board are six Self Contained Breathing Apparatus (SCBA) units and all the appropriate equipment to make this a second-line apparatus and number one mutual aid vehicle.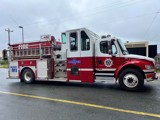 Rescue 1
This 2016 Spartan custom six-person cab over chassis Custom built by Dependable, is equipped for multi-role responses but primarily vehicle crashes with a full assortment of hydraulic extrication equipment and vehicle fires with a Class-B, FoamPro system, A Hale 1250 GPM pump, and a 1000 Gallon water tank. The extrication equipment includes a full Holmatro heavy hydraulic rescue system (cutters, spreaders, mini-spreaders, various size rams and assorted equipment), a battery-operated Hurst Jaws of Life combi tool both complimented by a stabilization system, air lifting bags, battery operated tools plus an assortment of hands tools. All tools and equipment for both applications are stored in enclosed compartments for safety at highway speeds. The truck's built in halogen lighting system is a must to light up a scene for working and keeping our responders safe.
This complete unit as well as the training and experience of our volunteers has been responsible for saving many lives over the years.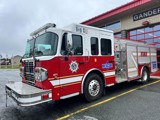 Ladder 1
This 2008 103-ft aerial quint is equipped with an on-board water/foam supply, 2,000 IGPM pump, Class A foam system, and 1.5" and 1.75" attack lines. The aerial ladder is equipped with a remote electronic control monitor and an assortment of ground ladders. A supply of 4" supply line allows this apparatus to supply more water then required at most situations. An assortment of Self Contained Breathing Apparatus (SCBA) and other vital equipment ride atop this 525-hp diesel-powered Caterpillar Cab-Over Spartan Gladiator chassis.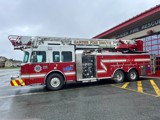 Unit 1
A 2016 Ford Escape is assigned to the Fire Chief. It is equipped with all the essentials for responding as an emergency vehicle and is outfitted with equipment utilized by the incident commander. His gear is usually on board for quick access if he is the first person on scene of any emergency incident either in Town or on our roads and highways.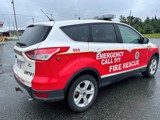 Unit 2
Is a 2012 Ford F-250 four-wheel drive, super duty crew cab pick-up truck with a special cap and gear tray that carries our Para-Tech stabilizing jacks and accessory system for quick deployment at a vehicle crash. This truck is utilized in transporting fire crews and equipment to and from incidents and training and for station utility use. The truck also carries important medical equipment, and safety equipment and is equipped with a hitch to tow both the hazmat trailer and rescue boat. This 10-year-old vehicle is scheduled to be replaced in 2023.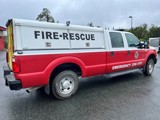 Unit 4
A 2016 Chevrolet 1500 Silverado extended cab 4X4 pick-up truck is assigned to the Fire Inspector. This pick-up carries an assortment of equipment for performing fire inspections including safety gear, measuring devices, and detecting gear. It is also used in our fire prevention program, responds to emergency incidents, and secondary roles of support vehicle and equipped to tow our hazmat trailer.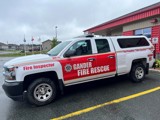 Hazardous Materials Trailer
This 24-foot trailer is supplied and funded by the provincial government. It is one of several trailers situated across our province for responses to Hazardous Materials Incidents. An agreement signed between the Town of Gander and the Province of Newfoundland Labrador defines the mutually agreed area serviced by Gander Fire Rescue. This trailer has a vast amount of equipment which enables hazmat trained personnel of this department to attend to this type of emergency response.
Rescue Boat
Is a 2017 M2K Classic Zodiac with a 20 four-stroke outboard motor. Purchased solely with money raised by members of Gander Fire Rescue and Gander Fire Rescue Auxiliary. This rescue boat was presented to the Town of Gander in 2018 in answer to a need for water rescue responses.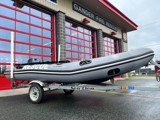 Antique Pumper
This 1939 International Pumper has seen many changes over its life of service to Gander. Originally brought to Gander in 1941 to service the new, growing airbase, the vehicle was operated by the military, who turned it over to civilian authorities after World War II. The truck continued in service until 1968, when it was turned over to the newly formed Gander Volunteer Fire Brigade. It remained in service for several years and was then left in a supply compound for many years. With the support of the municipality, firefighters began to restore the vehicle in the late 1980s.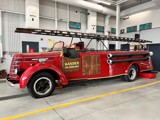 Sign up to our Newsletter
Stay up to date on the Town's activities, events, programs and operations by subscribing to our eNewsletters.